During an experiential activation, ensuring that your brand is clearly visible and recognizable to foot traffic, dwellers and those interacting with your unit is the most important factor in determining the success of your event. Steel Space Concepts experiential shipping containers are available with multiple areas to display branding for on-lookers during an activation. External branding, internal branding, televisions, interactive media and product showcases are some of the ways that agencies and brands have effectively branded their units.

Paint, Displays and Vinyl Graphics
On our turnkey units can accommodate vinyl graphics, paint and branding. It is common for customers to brand internally and externally, allowing for additional advertising while the unit on-route to the specific activation location. Branding surfaces include ceiling and flooring as well as all external and internal walls. For example, activations completed for MTN Dew and Subaru utilized graphics internally and externally.
This can vary depending on overall unit configuration and footprint which will determine where branding can be used and the overall visibility of any graphics. Note that additional displays, including signage, can be installed on the unit or beside the unit on a variety of structures.

Televisions and Lighting
All units are available with standard outlets, lighting and built in electrical systems. As such, TVs, digital signage, and other interactive media. Effective use of these branding and media tools can be further examined with two projects we completed for Pepsi.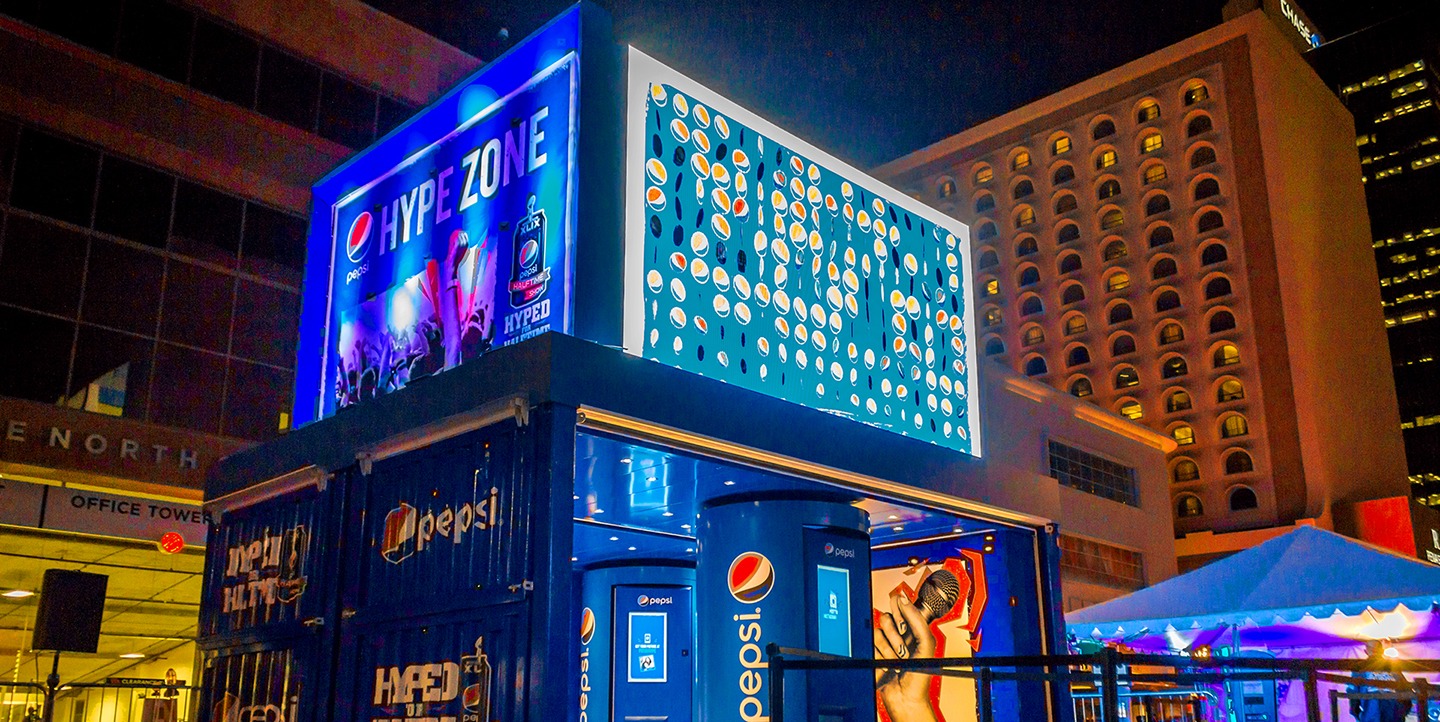 In this case a custom solution was implemented where led monitors were installed on the roof of a custom unit consisting of two 20ft containers. Motion graphics and lighting was implemented to display animated branding alongside interactive displays which were installed in the interior.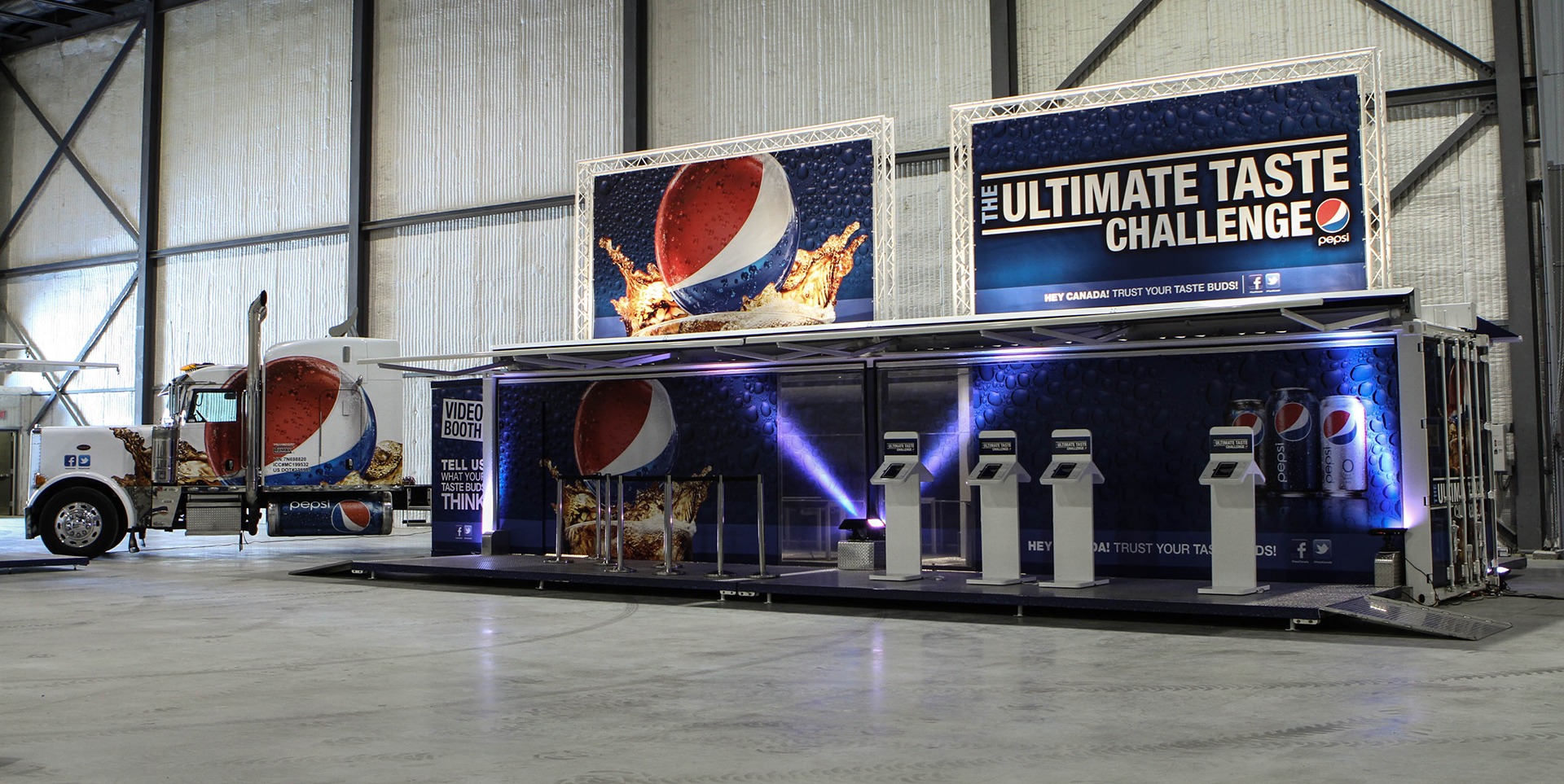 Multiple turnkey units were utilized in this project, where televisions, interactive tables, tablets and stands were made available to transfer information to activation dwellers and foot traffic. Digital Pepsi branding was utilized in order to increase foot traffic, promote interaction and lead capture.

AR and VR Installations
Due to the flexibility of unit configuration, technologies such as AR and VR have been used to enhance the brand experience. This allows for the installation of AR and VR headsets in conjunction with complementary equipment.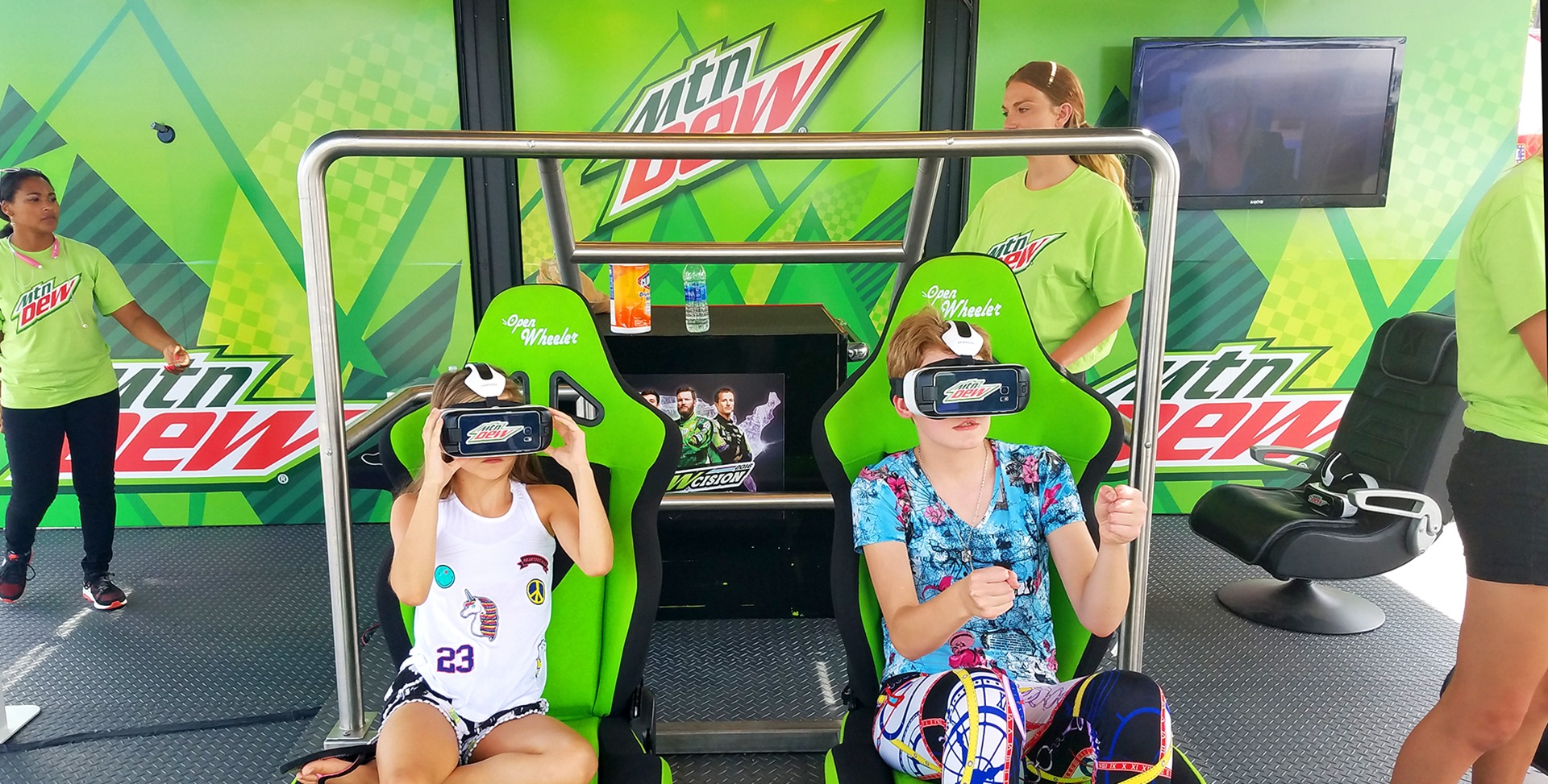 As a premier sponsor for NASCAR, mountain dew asked Steel Space to provide a unit with VR headsets chairs and steering wheels, creating a branded and immersive fan experience, where those participating could experience NASCAR in VR.

Product Showcases
Available in various configurations, product showcases (interactive or stationary displays) is an effective way for clients to interact with brands. These showcases have included displays for clothing and fashion, electronics, and other retail brands.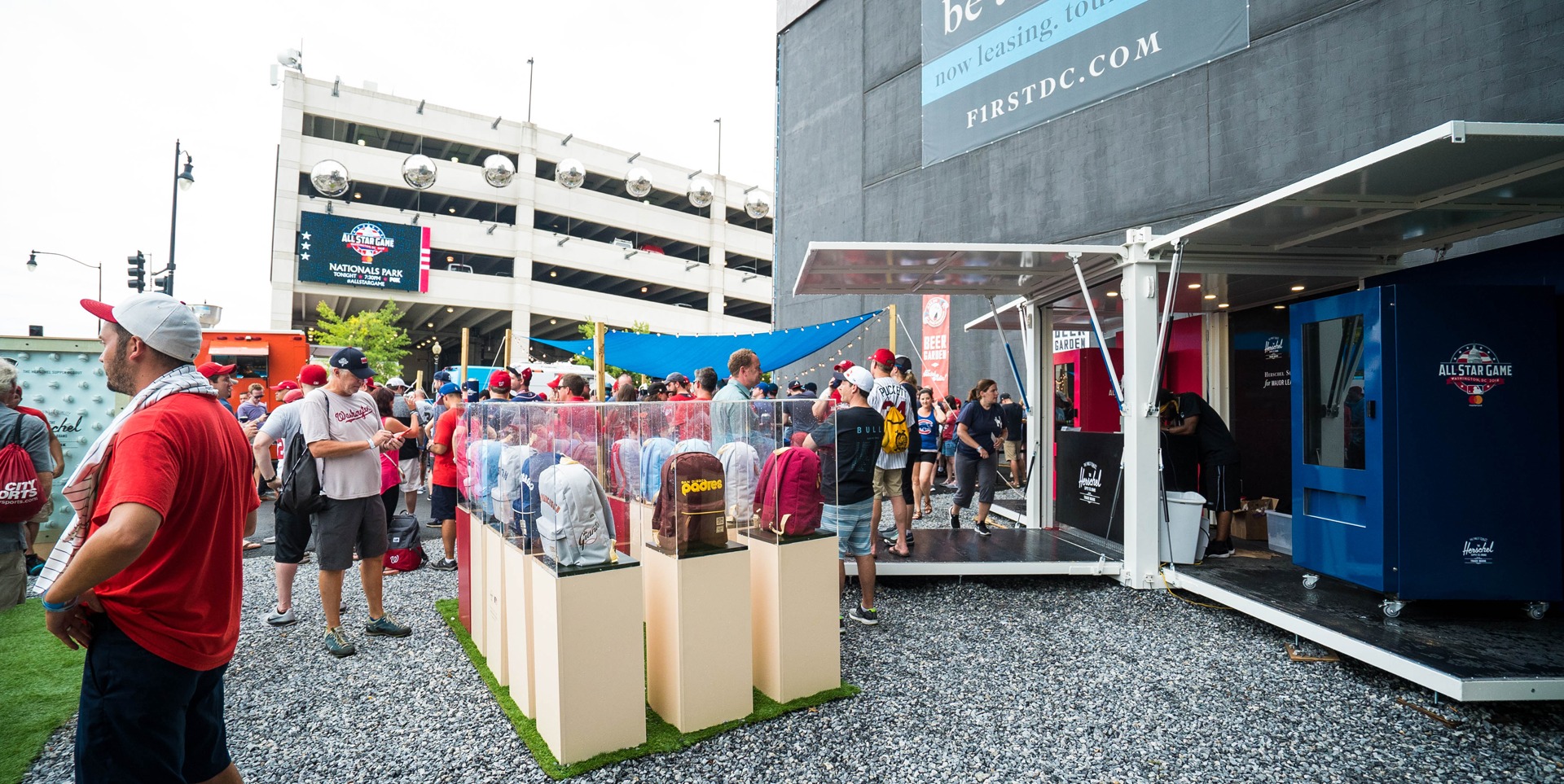 In this case, a product display was utilized for Herschel's MLB branded line of backpacks. Potential clients had an opportunity to get an up-close look with the product.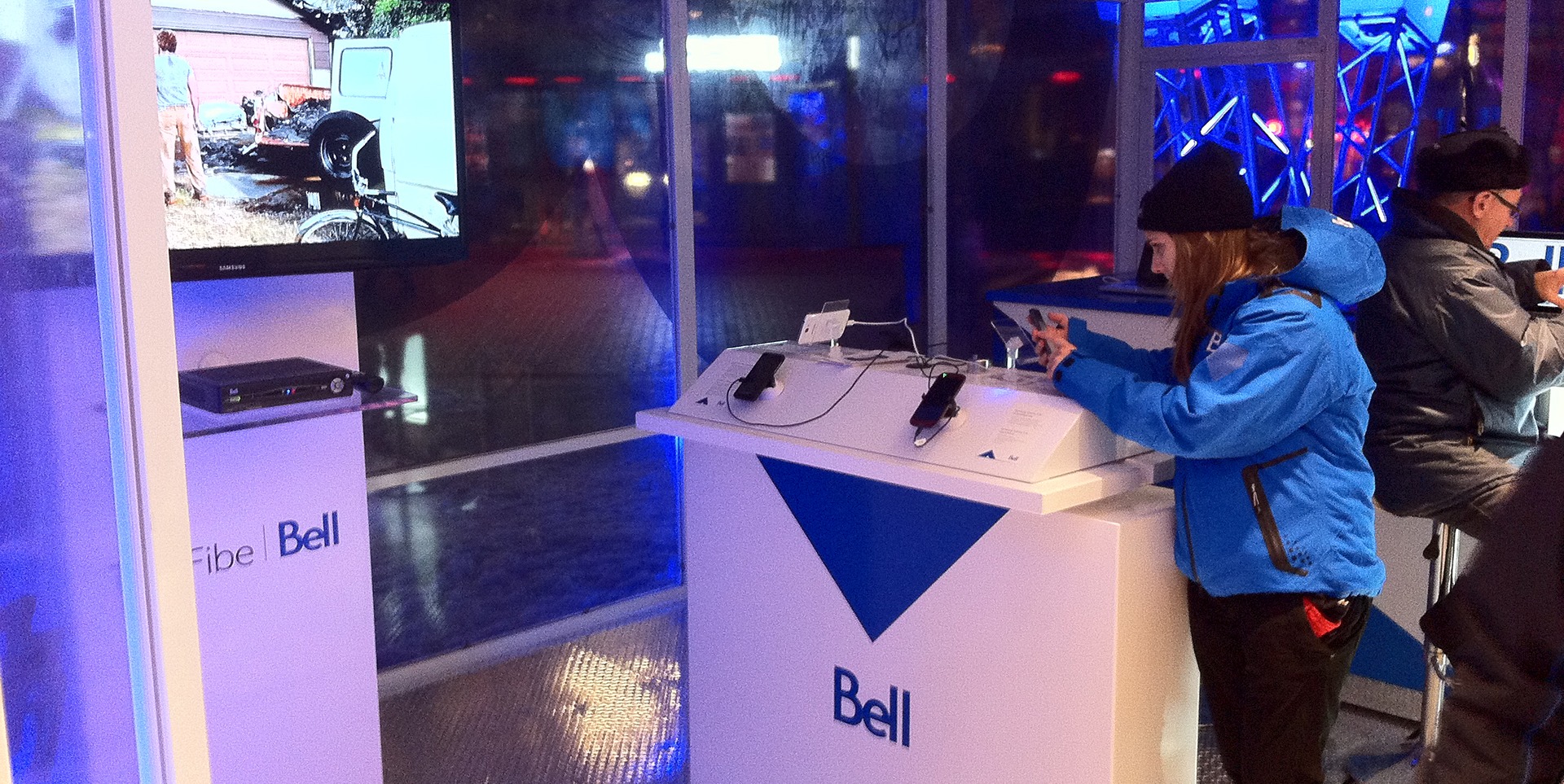 This winter activation utilized a unit with several products available at Bell including smartphones and tablets. Individuals were encouraged to interact with the lineup of products during this winter activation.
If you have a project and are looking for a way to incorporate your brand into an activation, we're here to help! Our team of experts can guide you through branding options and suggestions. Contact us for a free quote.