A few months ago, a marketing firm won an RFP to design a project with Lincoln and contacted us to collaborate on their major experiential marketing campaign.
Crowned with great success and worth a few hundred thousand dollars, this American automotive manufacturer's project took place in New-York City and attracted thousands of people on site over the two-month activation period.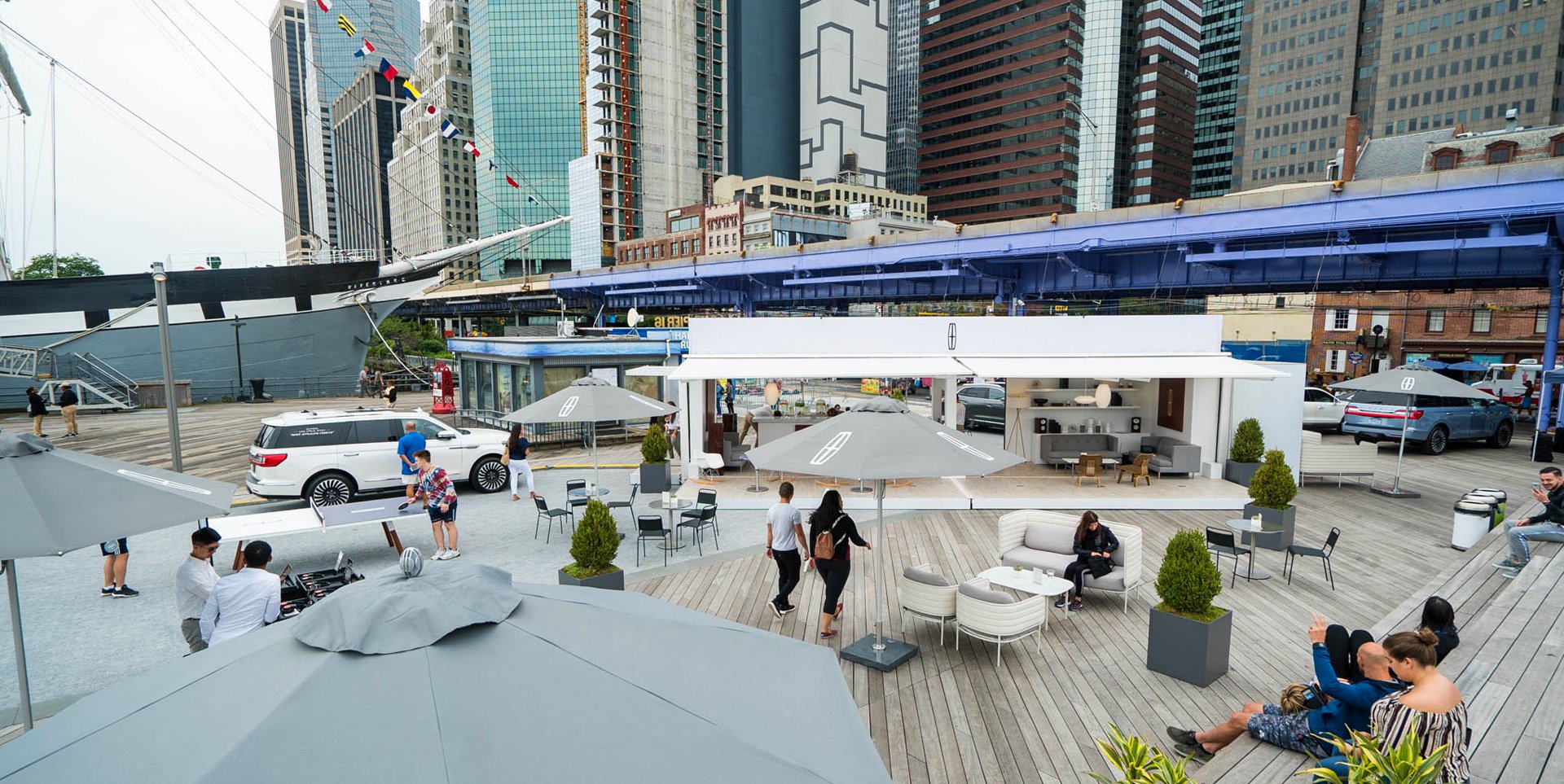 A well-designed marketing activation
Like its products, Lincoln knows how to make a great impression! With that in mind, Lincoln opted for Steel Space's 40' unit to be activated at Pier 17 of New York's Seaport Square, serving as a pop-up information hub. Throughout this past summer, this activation brought headspace meditative experiences, customized test-drives and a first look at some of the newest vehicles in the brand's lineup. This resulted in the creation of an important buzz around the activation and attracted both Lincoln admirers and curious by-passers.
· CHALLENGE: Create a buzz and build awareness around new Lincoln vehicle models.
· SOLUTION: Activate a spacious and chic pop-up lounge in the heart of New-York City.
· RESULTS: Build the Lincoln Summerhouse event that we can activate within an hour.
Steel Space Concepts' role for the project

An activation of this magnitude and quality was obviously not the work of a single team. Although Steel Space Concepts was entirely responsible for the construction, the design of this unit was a joint realization of several parties. The marketing firm, the client, the event designer and multiple subcontractors all had a big part in the completion of this successful project.
Built, branded, furnished and delivered within a month and a half, during the summer holidays period, the modified container distinguished itself with a highly personalized design, different from any of our standard containers. Moreover, custom floors, awnings and furniture were installed and produced by our teams.


The advantages of visiting our warehouse

Throughout the duration of the production process, the marketing firm and their designers were able to visit our showroom twice. During these visits, different modified containers of our rental fleet were presented. The visitors were able to experience and see for themselves the various features and benefits of our modified containers.
In addition, design meetings with the entire team took place at our offices to ensure all involved teams were on the same page to deliver the best activation possible. These visits were more than welcomed by our team, as we strive to provide the best experiences for our client. Three members of our crew alongside a technician were on site during the activations to assist and make sure our clients were satisfied at all times.
Our sales teams and project managers constantly work very hard to develop trustworthy relationships with our customers. Indeed, our clients' satisfaction is our top priority and the reason we always deliver high-end, premium modified containers with day-to-day support.