Shipping containers are increasingly being used to build a large variety of structures around the globe, from eco-homes to mobile offices, pop-up bars and restaurants, even hotels. The sky is the limit! Modified shipping containers offer unique flexibility and polyvalence for experiential marketing campaigns since their design can be adapted to clients' specific needs and be used at various types of locations. Shipping container units are now being exploited by brand-builders, marketers and advertisers for practical reasons, but also as a reflection of their brand association. The main practical benefits of using shipping containers for branding and marketing purposes include affordability, flexibility, durability, mobility, transportability and security.
Converted shipping containers are revolutionizing experiential marketing campaigns by conveying exclusive brand experiences. There are numerous ways of using modified shipping containers for brand building and marketing purposes in various industries and sectors.

1. Mobile Restaurants & Bars
Poor location and overspending are the two main reasons why new restaurants and bars fail during their first year of existence. Minimize risk and increase your chances of success by testing the market with a flexible and affordable converted shipping container pop-up bar or restaurant. Custom made modified shipping containers can get your business in front of your customers much faster than a traditional business. You can also use converted shipping containers to try out new ideas or menu items and ask customers for their feedback without taking huge investment risks. Pop-up restaurants and bars are also a great way to create hype around your business. Attract new potential clients by setting up your modified container at a special event!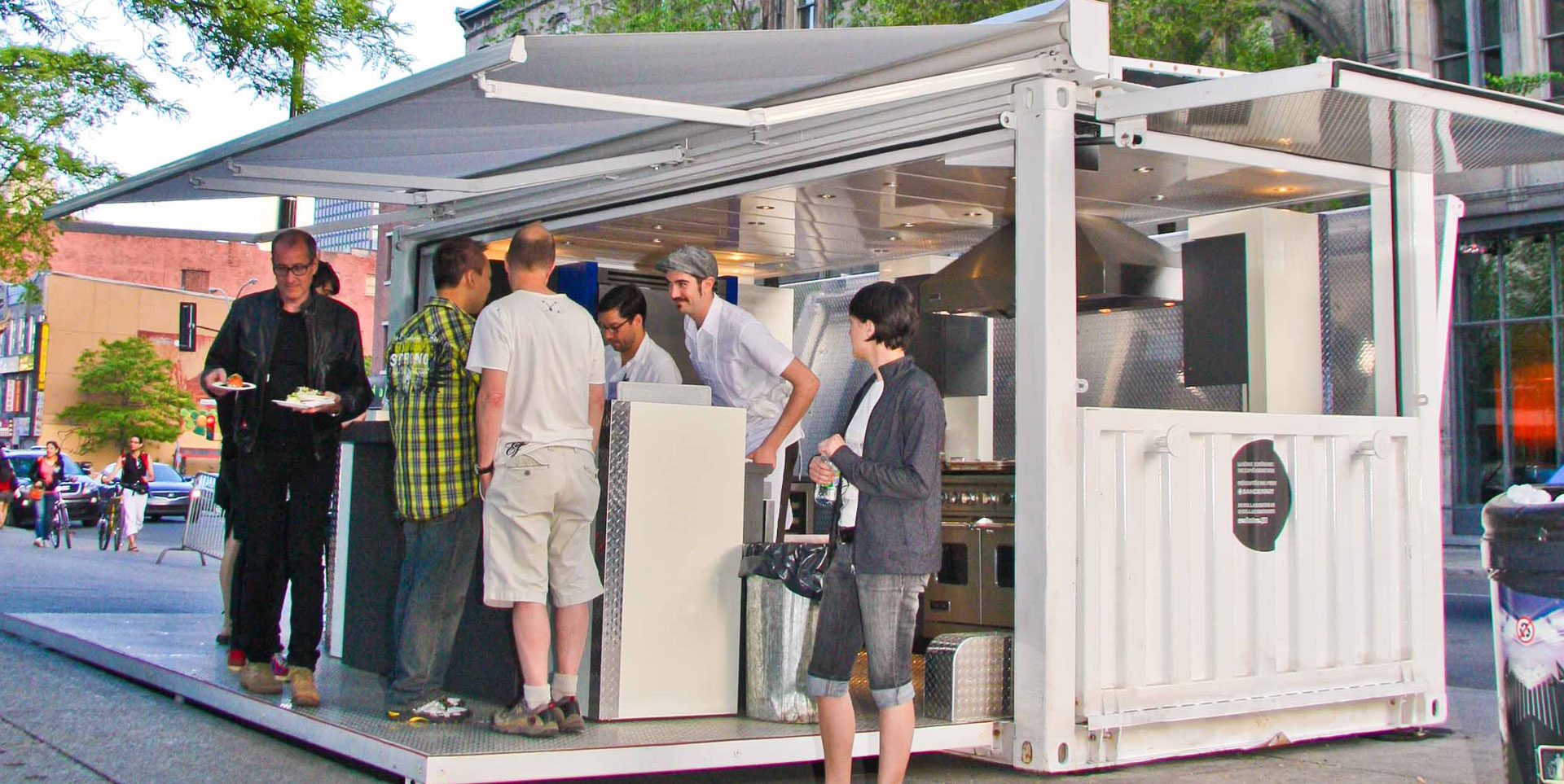 Mutek, the trendiest underground music festival in Montreal, had paired with several of Montreal's finest chefs for a unique celebration of underground music, digital creativity and gourmet cuisine. For the event, a steel 20 feet container was transformed into a hip restaurant which was set up downtown along with a DJ, music and everything you need to keep the crowds coming. A unique opportunity for Montrealers to have a drink and discover renowned local chefs!

2. Mobile Bars
As mentioned above, custom made shipping containers can get your pop-up restaurant or bar in front of your customers much faster than a traditional business. Reach your goals while minimizing the financial risk of launching your new bar!
Example: MLB Chicago Cubs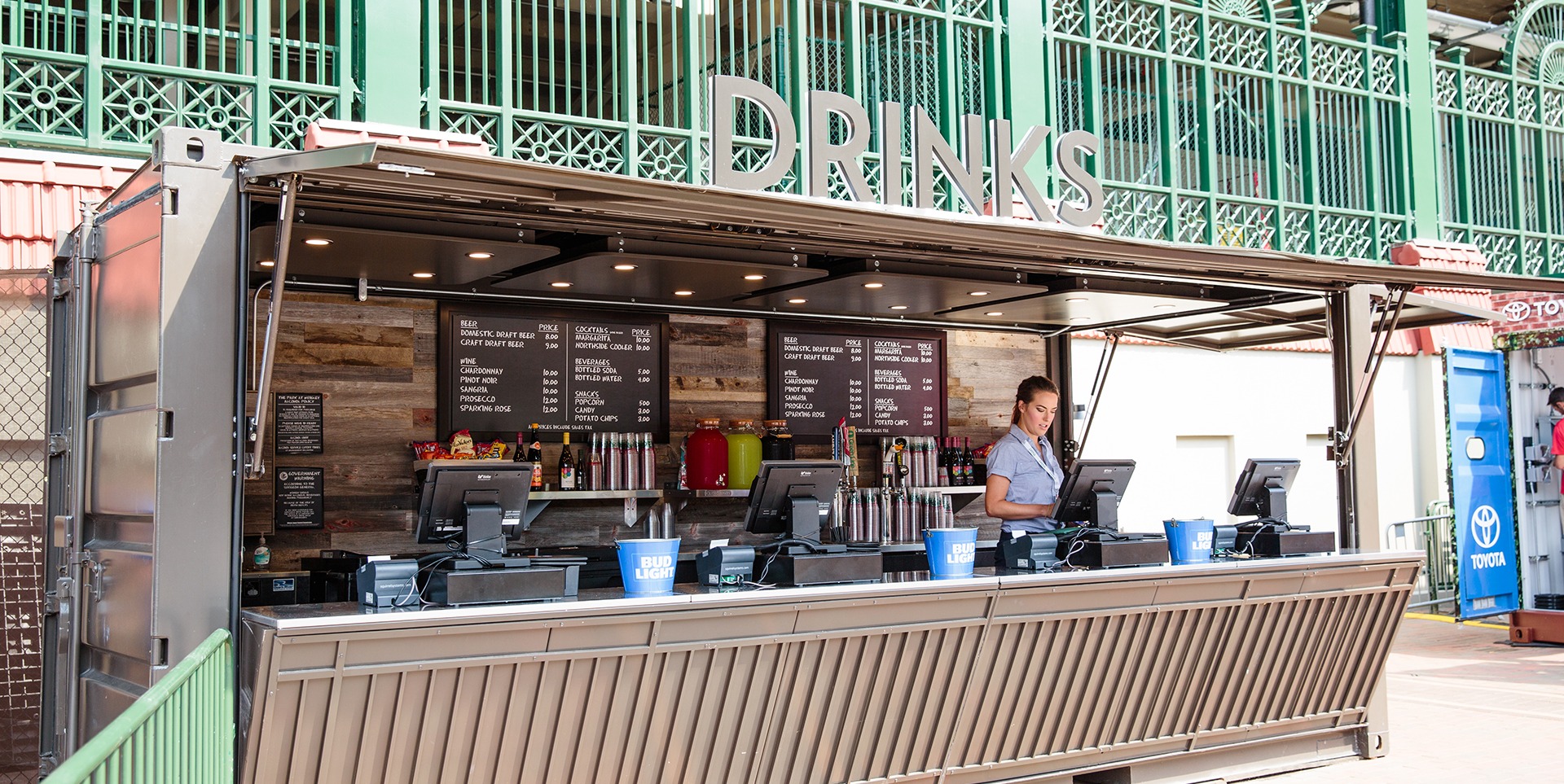 The Cubs were looking to deploy three unique spaces where they would retail beverages within the limits of The Park at Wrigley. Custom converted containers were built which featured full refrigeration systems and housed an extended bar. Incorporating the design elements of The Park at Wrigley was essential to this project, as the units would be permanent fixtures within Wrigleyville for years to come. The units' seamless design was a success!

3. Mobile Show Rooms
Using modified pop-up shipping containers to promote your automobile brand can enable you to open new low cost mobile showrooms. The containers' flexible structural configurations allow installation of ramps to facilitate entry of the cars and hook systems on the floor ensure safe transportation of the vehicles inside. Equipped with TV screens, DVD players and incredible sound systems to optimize customers' experience, mobile showrooms are an innovative sales channel which taps into lifestyle factors by showcasing vehicles in an original setting. Driving tests, exhibition areas, chill zones, interactive shows or contests are all experiences that can be integrated into a modified container showroom to attract potential clients during special events.
Example: Honda Fit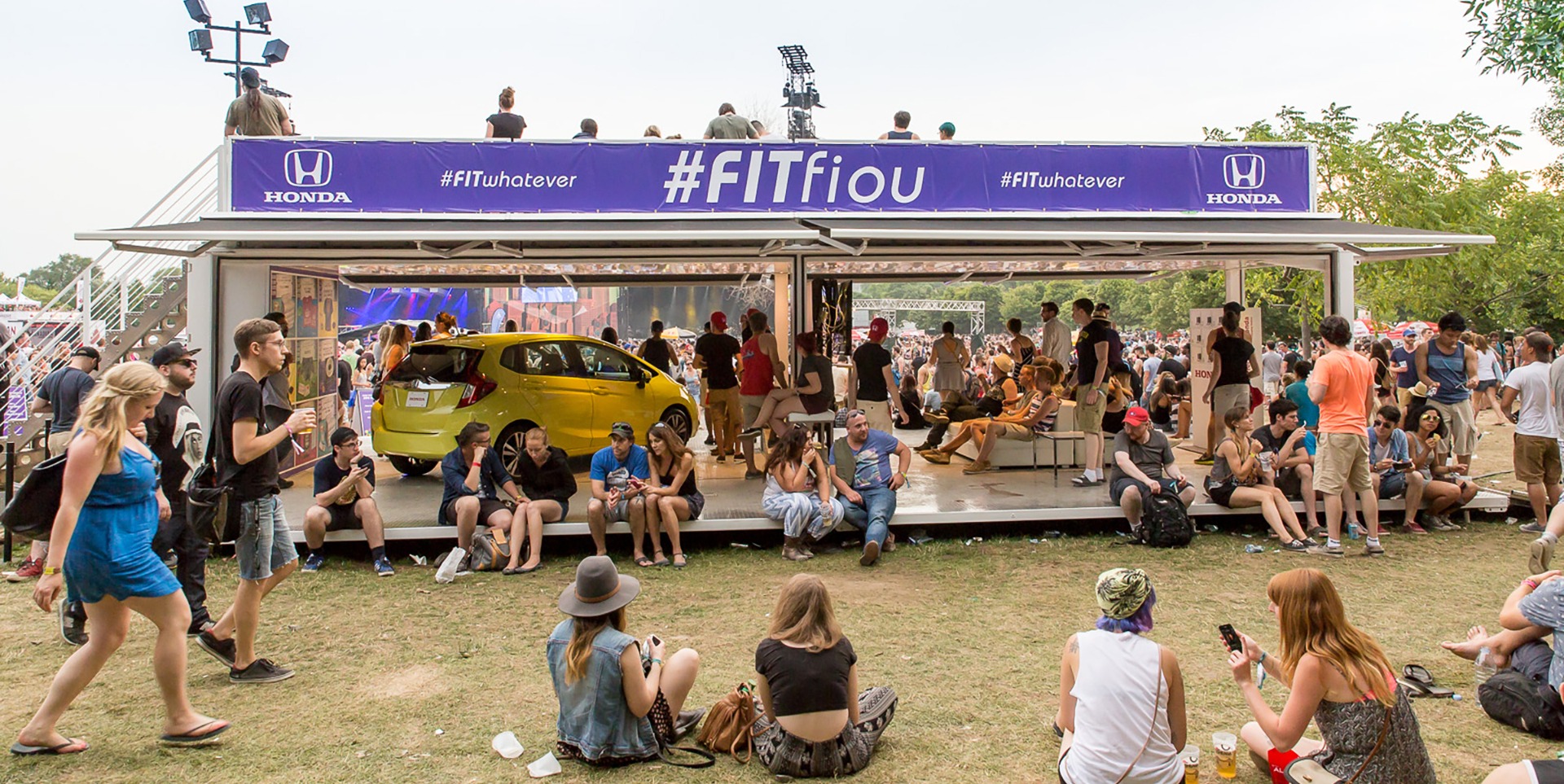 During the Osheaga Festival, Honda used a 40 feet container as the main stage. As they watched their favorite bands perform, concert goers could lounge on leather couches and check out the brand-new Honda Fit that was parked inside the space. In a second container, which was located at the Electronic Music stage and green space, visitors could listen to world-renowned DJs or access the mezzanine level for a panoramic view of the event.

4. Pop-Up Retail Space
Shipping containers appeal to all demographics and create an interactive and visually-enticing experience. Since modified shipping containers are viewed by consumers as temporary setups, they create a sense of urgency and encourage spontaneous purchases. Their architecture allows for virtually limitless location flexibility and they enable your brand or business to stand out from the crowd. Original and exclusive modified containers can help your business generate a buzz, help you get noticed and get potential clients talking about your brand or product. Converted shipping containers also make excellent storage facilities for any type of product (clothes, furniture, etc.).
Example: Lands' End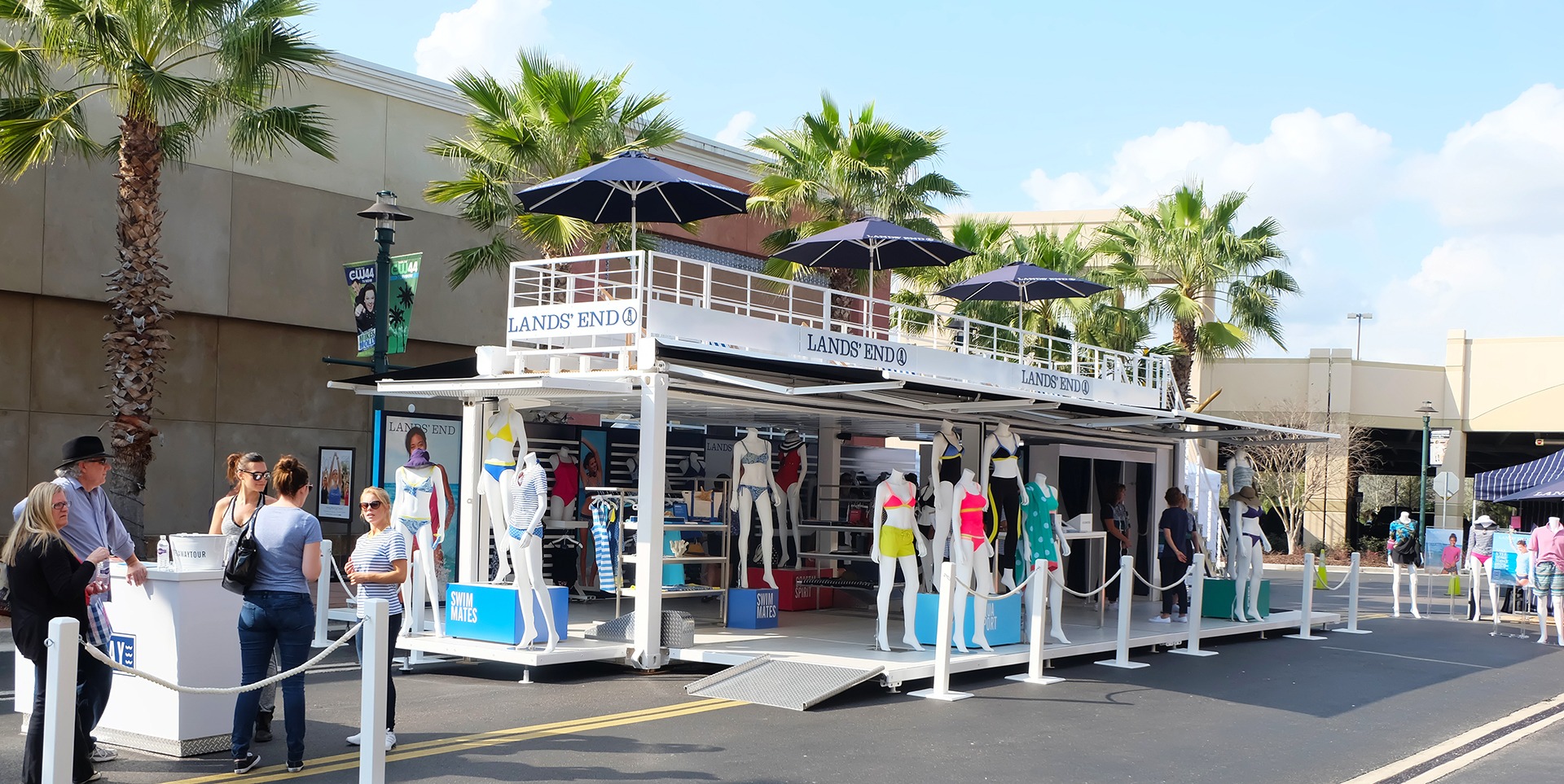 The unit interior was designed to look like a beach house with its white wooden finish flooring throughout the interior, branding and sand dunes. The unit featured custom walls on wheels for more merchandising options, changing rooms allowing consumers to try different clothes, shelving or mannequins creating this nice and mobile retail space.

5. Product Launch or Testing
Modified shipping container solutions enable companies to extend their target market beyond the normal boundaries of their business. For companies whose main distribution channel is their website, a pop-up shop might be the ideal solution to attract customers who aren't willing to order their products online or who would like to try before they buy (ex. cosmetic products, clothes, etc.). Companies can offer sample products or add a demonstration area to build brand loyalty and increase sales. Shipping container stores can be easily moved from town to town and around the world.
Example: Birchbox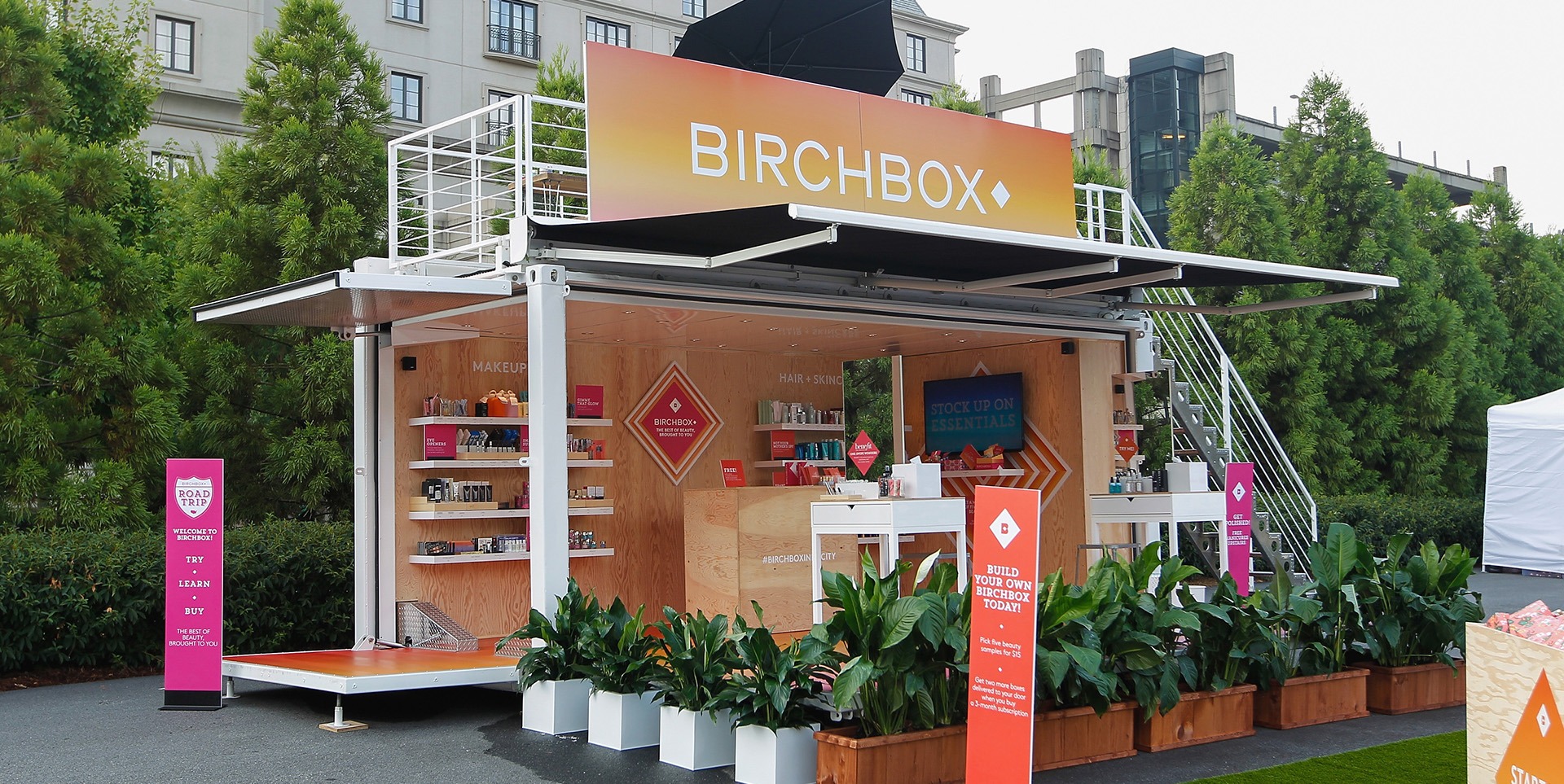 Birchbox, an online monthly subscription service that sends its subscribers boxes of personalized beauty product samples, wanted to bring all the fun of their beauty boxes to real life. The company used a modified shipping container to promote their beauty products during a road trip from Atlanta to Los Angeles. The container was converted into a full-service beauty and grooming shop where clients could build their own Birchboxes with full-size skincare, hair and makeup products.

6. Mobile Hairdressing Salon
Modified shipping containers can help you bring your product to life by providing them with items and experiences they can't get online or at a store. Offering sample products and services or free trials can make your products more accessible to your clients: they can try before they buy! You can also train your staff to get quick and qualitative product feedback on the spot by encouraging customers to speak freely about any issues they might experience with your products.
Example: DYSON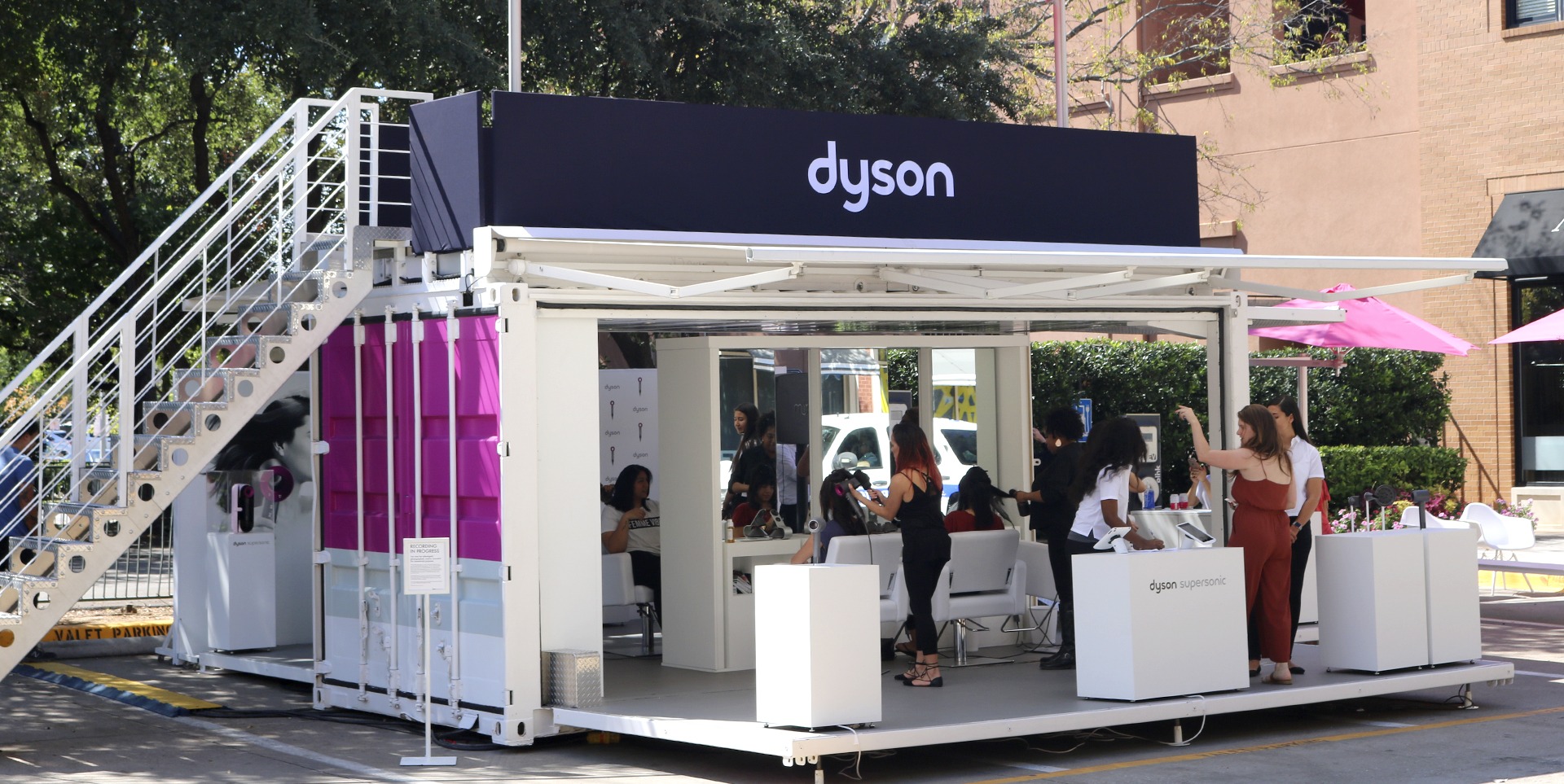 SSC created a mobile salon and blow dry bar to help launch the new cutting-edge Dyson hairdryer across the US. Stylish individual salon stations and a terrace with panoramic views were integrated into a 40 feet shipping container unit, providing a sizeable promotional space of over 1200 square feet. During this nationwide tour, professional hairdressers welcomed visitors and invited them to get their hair washed and blow-dried using the new Dyson hairdryer. Visitors were also encouraged to try the new product themselves, while hairdressers explained the main advantages of the new hairdryer.


7. Pop-up Accommodations/ Hotel Rooms
Shipping containers are a smart, flexible accommodation solution which requires minimal investment. Containers can be deployed short-term tactically at special events, at a specific place and time, and for a specific duration. Shipping containers' flexible structural configurations can easily be fitted with plumbing, heating and air conditioning to create temporary hotel guestrooms. The rooms can be equipped with sinks, toilets and showers, as well as all regular hotel room furniture including beds, televisions, etc. Hydraulic containers' offer safe loading/unloading and self-leveling systems which provide an efficient way to move the unit while protecting its contents.
Example: SYFY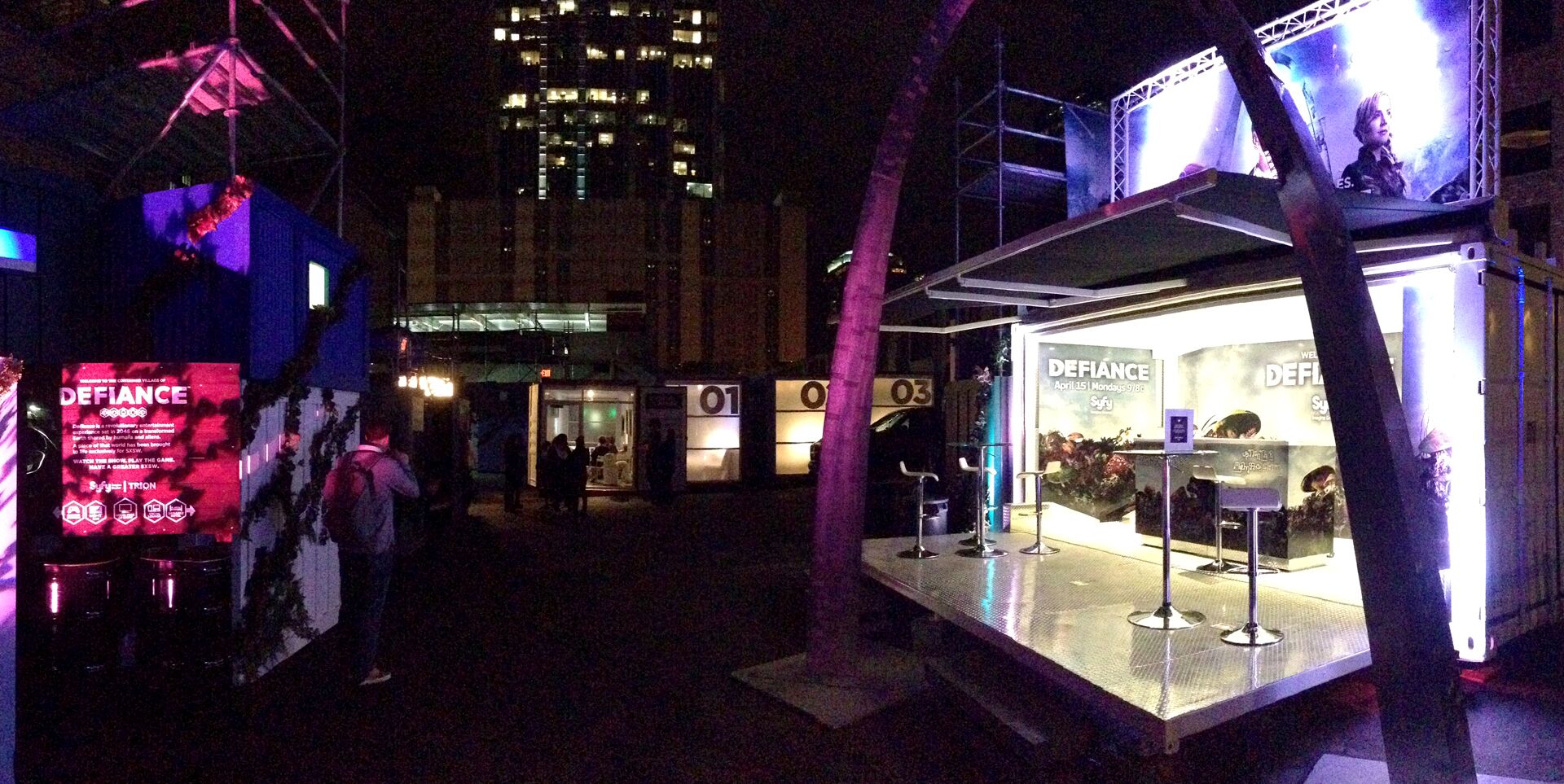 SYFY wanted to bring the world of Defiance, a new TV series that intersects with a third-person shooter video, to life. A Defiance container village was deployed at the South by Southwest (SXSW) Conference & Festivals, which celebrates the convergence of the interactive, film and music industries. The village comprised a small St. Louis Gateway Arch as entryway, a pop-up container hotel, social lounge, gaming stations, Need Want bar, stage and a food truck. The pop-up container hotel included various independent shipping containers which were transformed into modern and sleek guestrooms. Each room was fully equipped with all the essential amenities of a regular hotel room.

8. Mobile Wellness Studio
You are probably already offering your wellness services in a variety of physical locations, but a shipping container pop-up studio would enable you to reach even more customers in various locations. If the location is well matched to your target audience, you will get to enjoy free high-quality traffic to your studio. The temporary nature of pop-ups builds interest and consumers are more likely to rush to something that they know won't be there forever! Use converted containers to test new services and collect customer feedback before fully going to market or launching a new service. Create a unique experience for your clients by letting them try your services in an unforgettable environment.
Example: 3D Bota Bota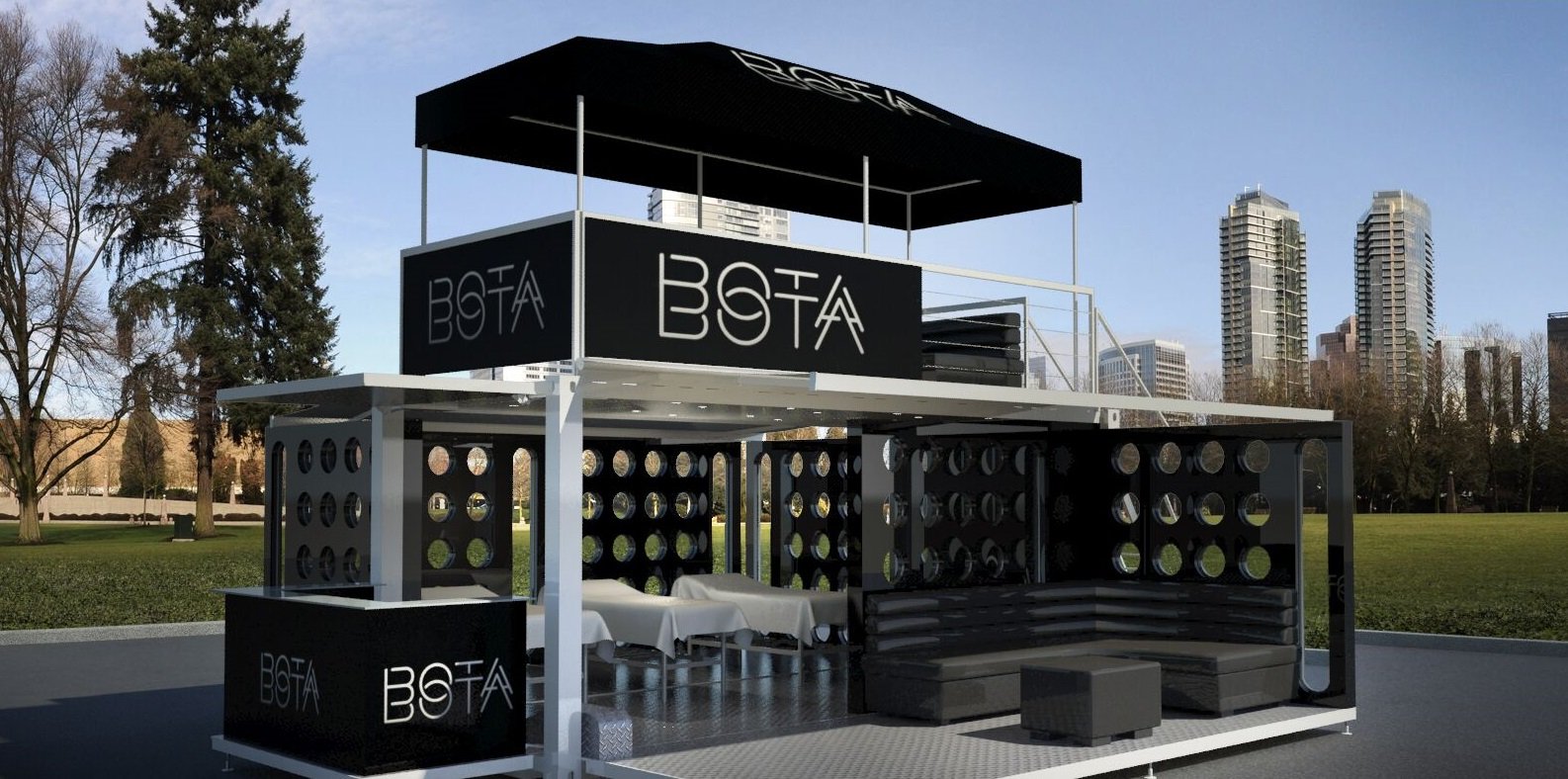 Bota Bota created a yoga wellness studio using a modified shipping container. The unit comprised massage rooms, seated chair massage spaces and a beautiful mezzanine offering 360-degree views.

9. Temporary Interior/Exterior Meeting Space
Shipping containers offer flexible solutions for interior or exterior meeting spaces, which require minimal investment and can be deployed rapidly during special events. Containers' flexible structural configurations can easily be fitted with plumbing, heating or air conditioning and all the furniture needed to create temporary meeting spaces for employees and/or clients. Hydraulic containers also provide an efficient way to move the unit while protecting its contents.
Example: Google Play Music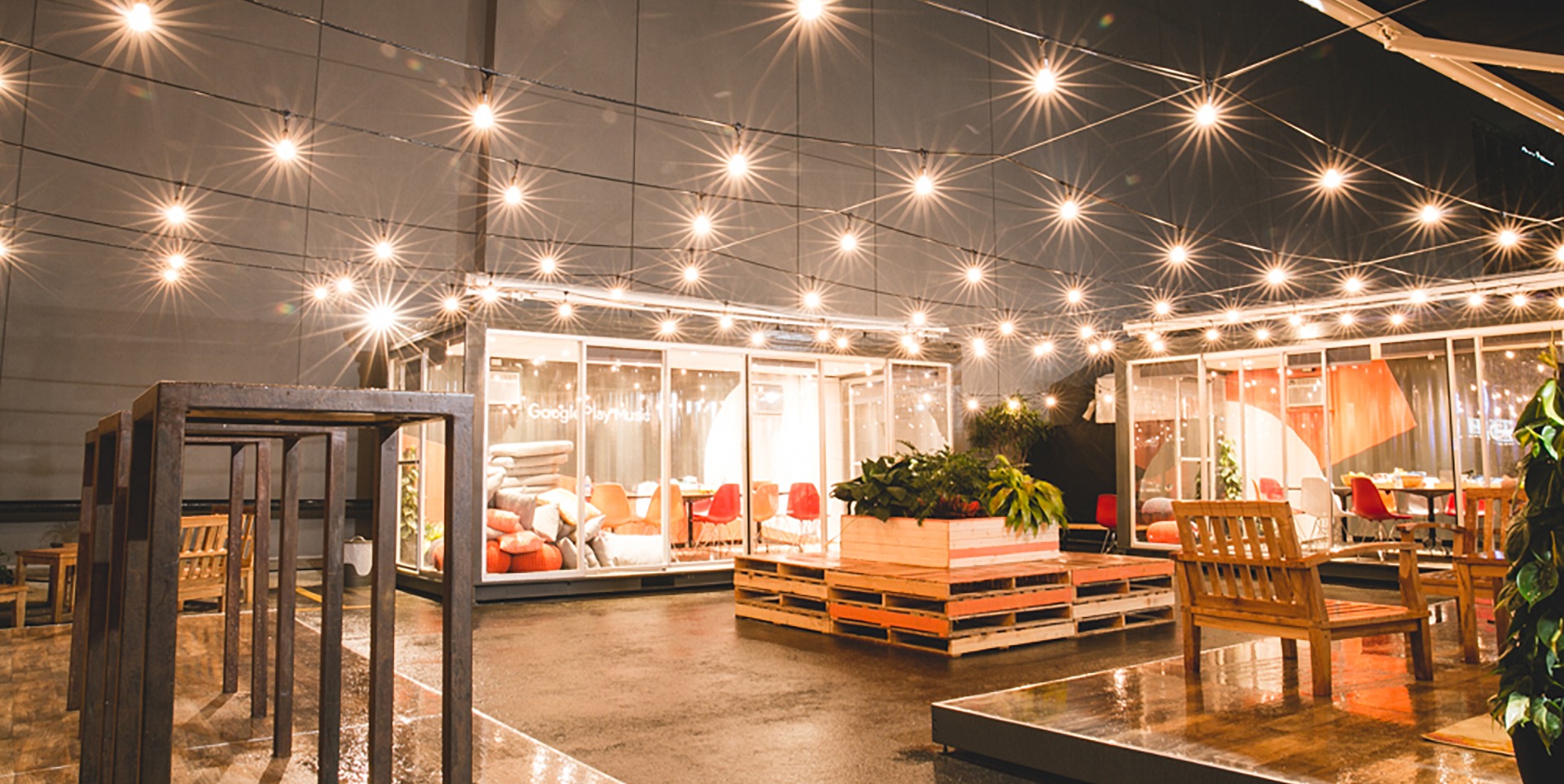 South by Southwest (SXSW), one of the largest film, interactive media and music festivals in the US, and Google Play teamed up with a Los Angeles based marketing company to create four custom built shipping containers for the event. Consisting of several private enclosed meeting spaces for employees, a conference room to hold meetings and a bar/lounge area, the converted containers offered employees unique personalized working spaces. Exterior elements were added to compliment the space.

10. New Car Models Promotion
Modified pop-up shipping containers can help promote automobile brands while showcasing vehicles in an original setting. Driving tests, exhibition areas, chill zones, interactive shows or contests are all experiences that can be integrated into the container showroom to attract potential clients during special events. The containers' flexible structural configurations allow installation of ramps and floor hook systems for safe transportation of the vehicles inside the container. Hydraulic containers also provide safe loading, unloading and self-leveling of the unit.
Example: KIA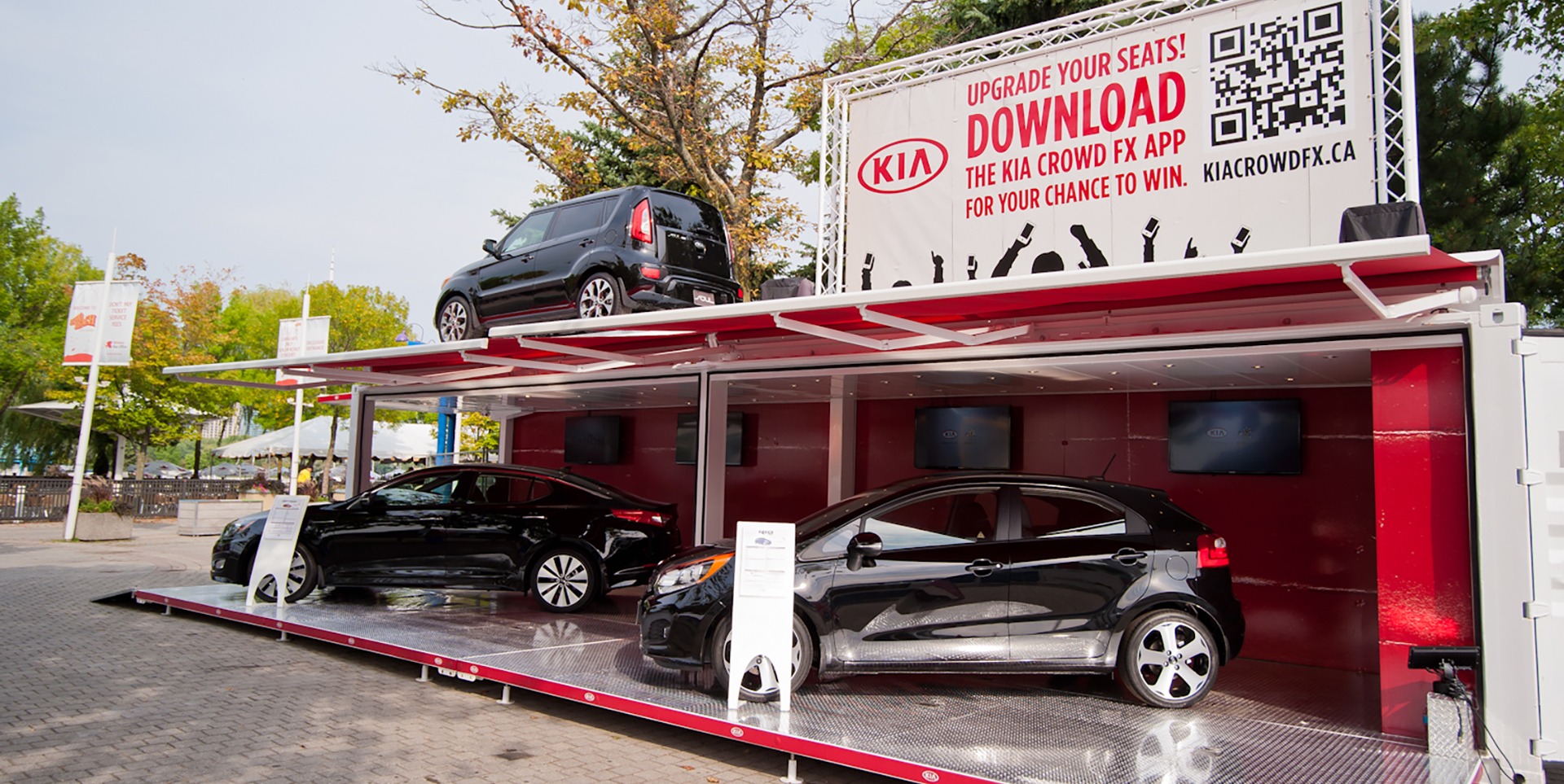 KIA Canada wanted to bring customers close to the new KIA models in an exterior showcase during events at the Molson Amphitheatre in Toronto. A 40 feet container was converted into an actual showroom allowing visitors to look at the Optima, Rio and Soul models. Equipped with TV screens, DVD player and an incredible sound system to increase customer experience, the mobile showroom was a hit!

Shipping containers provide amazing branding opportunities and most large global corporations have already taken advantage of their popularity. Shipping container structures bring innovation, design and uniqueness to brands. Modified shipping containers have clearly made their mark on the world of construction, marketing and brand-building, and will continue to do so for the foreseeable future.